A Word from Josh:
This was a special show for us in a few ways. First, let's get the ugly part out of the way: The Packers lost to the normally underachieving Detroit Lions in a rather bizarre game. As we've done before, we played in a tent set up outside Anduzzi's immediately after the game concluded (about 3:30 pm). Located only a couple of blocks from Lambeau Field, the bulk of our crowd consisted of disappointed Packer fans who had attended the game. We could not have asked for better weather in mid-November and a lot of people seemed interested in venting their football frustrations by rocking out to our show. The result was one of our most exciting shows of the year. The tent filled up quickly and stayed packed with some of the wildest music fans we've seen in a while. We decided to skip the break and play straight through in order to ensure that we didn't lose the amazing momentum we had developed. Throughout most of the show the stage was swarmed from every direction by beautiful women, most of them wearing Packer green and gold and many of whom appearing to be very drunk. Yes, we were in our happy place. This was our third show in three days and this was the kind of crowd that could easily keep up our energy level despite the grinding schedule. This was also our last show without our front man Johnny Spandex who is expected back next week after sitting out for more than three months following major shoulder surgery. Tonight's lead vocals were handled by

Charles Thomas

who has filled in for John quite spectacularly for 15 of the last 21 shows. Amid the exciting mayhem of today's show, Charles was both exuberant and reflective on his time with the band. He and the rest of the band gushed with mutual admiration often during the set. It was not lost on us that tonight marked a spectacular end to a brief but very interesting era for the band. Our time without John began in early August with a fair amount of uncertainty, but that uncertainty quickly transitioned to excitement and renewed confidence via the talents of Charles along with Joey Gleesing and Andrew Gonzalez who enabled us to maintain our busy schedule without missing much of a beat. It has been clear that, despite some necessary tinkering with the ingredients, we were able to maintain the essence of Cherry Pie throughout this challenge. I have to say, that's a pretty good feeling. Next week we look forward to welcoming back John, our brother-in-arms for over 800 performances. Tonight we celebrate what Charles was able to bring to the table in his role in the history of this band. One more time, we'd like to thank Charles, Joey and Andrew from the bottom of our hearts for the talent they brought us when we needed it. Our mutual love of music can do amazing things and will always link us together. --Josh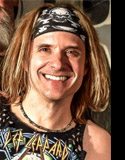 A Word from Charles:
My stint as fill-in vocalist for Cherry Pie came to an end on the 15th at Anduzziís in Green Bay. We played a Packer after-party at the bar (a short distance from Lambeau Field) and it was one of the best shows Iíve ever played in my life. Just non-stop fun from beginning to end. We played for about 3.5 hours without a break, and Iíve definitely never done that before! The crowd was amazing... the show was stellar. Iíve never seen smiles on the faces of the band, crew, and entourage like I did that night.

I did seventeen shows with Cherry Pie in all, as the frontman. I feel like it was one of the hardest things Iíve ever done, but so worth it. Iím a much better performer and singer because of it. It was incredibly daunting to step into the shoes of a veteran frontman like John. This is a guy who has played more than 800 shows with the band. I had exactly zero shows as a frontman under my belt when I stepped onto the stage with the boys at the Metal Grill in Cudahy last April.

In the beginning I have to admit that it felt terrifyingly like being strapped to the top of a powerful 747 in flight... just trying to hang on and survive. But as we went along I came to embrace the power of it, and learn to control it. Somewhere I found another performer who lived inside me, and let him out. I did things I never thought I was capable of, and I grew by leaps and bounds as a result. I learned to soar.

Iíve said it onstage many times, but Iíll say it once more here. I canít thank the guys in Cherry Pie enough for trusting me to front this huge machine of theirs for three months. I feel like weíre all brothers now, and even though I was an enormous fan of everyone in the band prior to this experience, I have a much, much deeper appreciation for the musicianship and professionalism of every member of the band now that weíve shared so much time onstage and on the road. This feeling extends also to the crew, Matt, Johann, and Kevin... who are the best in the business, and to the whole CP family. All the inner-circle of friends and family, and their fans who welcomed me with open arms and could not have been sweeter or more complimentary in an admittedly difficult situation for them. I could not have done it without you all.

From the bottom of my heart, thank you all. It has been one of the most rewarding experiences of my life, and certainly of my long musical career. --CT




VOICES FROM THE CROWD:
Were you at this show?
Would you like to comment on it?


Linda:
"Charles Thomas you will be missed by so many!"

David:
"Lead singer has great range. Best sounding show I ever heard. You guys ROCKED IT!"

Joanne:
"We miss John."